Boat and Yacht Rental in Dubai
Live a breathtaking adventure with AllBoats. We offer the best boat rental service in Dubai and will help you book a luxurious private yacht for a corporate event, a birthday, a wedding or a New Year's Eve party. With AllBoats your special occasion will become a memorable experience. Use our exclusive offers and hire a yacht for a business charter, a romantic cruise or a friendly gathering in Dubai Marina. We will take care of all the arrangements, and you just enjoy the beautiful ride.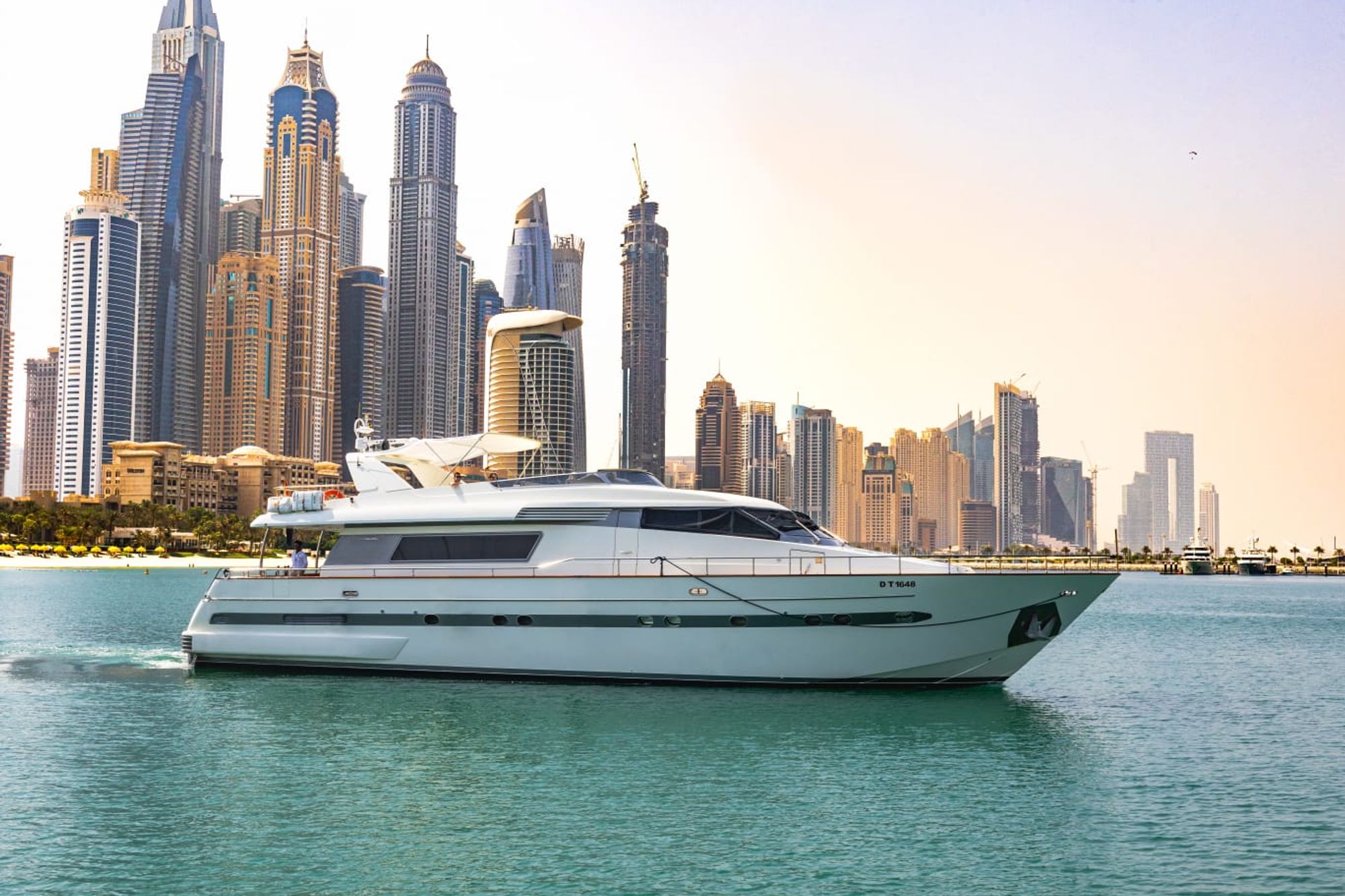 Make your event special with AllBoats
Nice to meet you, we are AllBoats, the best online yacht rental service in Dubai with an impressive fleet of private yachts and boats of different capacity, from 5 to 60 people. Whether you're planning for an action-packed weekend, a family vacation, or a relaxing getaway, we are here to make your trip unforgettable. Scenic views of Dubai Marina, the comfort of our impeccably designed, well-equipped and air-conditioned yachts and the professionalism of our crew will set the mood of any event: a yacht birthday party, a wedding, an engagement party, an anniversary party, a company party, a product launch, or a romantic yacht cruise in Dubai. You can also choose a soundtrack for your event or even perform one yourself, as our yachts are equipped with powerful sound systems and karaoke stations. AllBoats sets your entertainment as the top priority and will provide you with exclusive yacht services beyond your imagination. We will help you make great memories that will last you a lifetime.
Discover Dubai from a different perspective
Dubai is an ever-evolving city famous for contemporary attractions and cultural highlights. If you're looking for an unexpected sightseeing experience, explore the city from the water. Ply the tranquil waters of Dubai Marina with AllBoats, visit exotic places via yacht charter and live a glamorous adventure onboard our luxurious yacht. You can arrange a photoshoot with Burj Al Arab in the background or book a sunset tour to enjoy a breathtaking view of the sun peacefully setting at Dubai Marina. Don't deny yourself a perfect vacation in Dubai and book a yacht online on our website.
Plan your budget
Luxurious yacht rental service doesn't always have to be expensive. We offer cheap yacht rental service in Dubai. With an extensive fleet of yachts and boats and a wide range of boat tour plans in Dubai, you can choose the one that is right for you, your occasion and your budget. You can contact us at +971 547 325 433, and we will consult you on the suitable yacht model for your event and will inform you on the boat availability on the date you require the rental.
AllBoats guarantees your safety
To be sure that everything goes smoothly during your trip, you have to find a reliable rental service. We at AllBoats guarantee the safety of your trip so that nothing will ruin the charm of your yacht adventure. We take enhanced security measures and thoroughly check our safety equipment before every yacht charter. All of our yachts are equipped with life jackets, lifeboats, fire fighting equipment and First Aid Kits. Each crew member of AllBoats is well trained in safety procedures and is personally responsible for your and your guests' safety onboard.
Our clients recommend our services
We can proudly say that we offer the best boat and yacht charter services in Dubai as we always receive the warmest feedback of our clients, who are happy with our high-quality services and always return to us. Our formula of success is very simple: we respect our clients' needs and expectations and craft our offer accordingly to create the best possible yacht experience. We always discuss all possible options with clients so that the selected yacht and destination are most suitable for the occasion. Our mission is to turn your private yacht trip with us into a living fantasy that you will always remember and cherish.
FAQ
How do I book a yacht?
You can book a yacht online ― choose the boat you like and click Book now. You will see a popup form to leave a booking request. Fill it in with your name, your phone number and your additional requirements that you would like us to consider.
You can also call us at +971 547325433.
How do I choose a yacht?
We recommend starting with deciding on the occasion, the number of guests and your budget. We can cover any event: from a bachelorette party of 30 to a private sightseeing tour for a romantic couple.
What time should I arrive?
We ask you and your guests to arrive at least 30 minutes prior to your boat trip.
What are safety precautions onboard?
Your safety onboard is our absolute priority, so each of our crew members is well trained in safety procedures. We also equip all of our yachts with life jackets, lifeboats, fire fighting equipment and First Aid Kits, which we check before each and every boat ride.
What if I become seasick?
To minimize the risk of your discomfort onboard, we recommend you stay on the top deck facing the direction the boat is moving in. If you are frequently affected by motion sickness, consider taking motion sickness pills before the trip.
What if the weather is bad on the day of the tour?
In this case, we have an option of rescheduling your booking. You will be able to choose a convenient time and date of your yacht tour.
Is smoking allowed?
We allow smoking only in designated areas. Before smoking, please consult with the captain.
Describe your requirement,
and we'll take care of everything!
We'll call you back and explain all the details (from 9:00 AM to 11:00 PM)
In case of a booking emergency — call us at +971 547325433
Fill in the form
By filling in the form and
clicking
«Send»
, you are agreeing to the Confidentiality Policy terms.